Moodifier Daemon
A lighting control and home security and surveillance server for Raspberry Pi, Linux & Mac OS X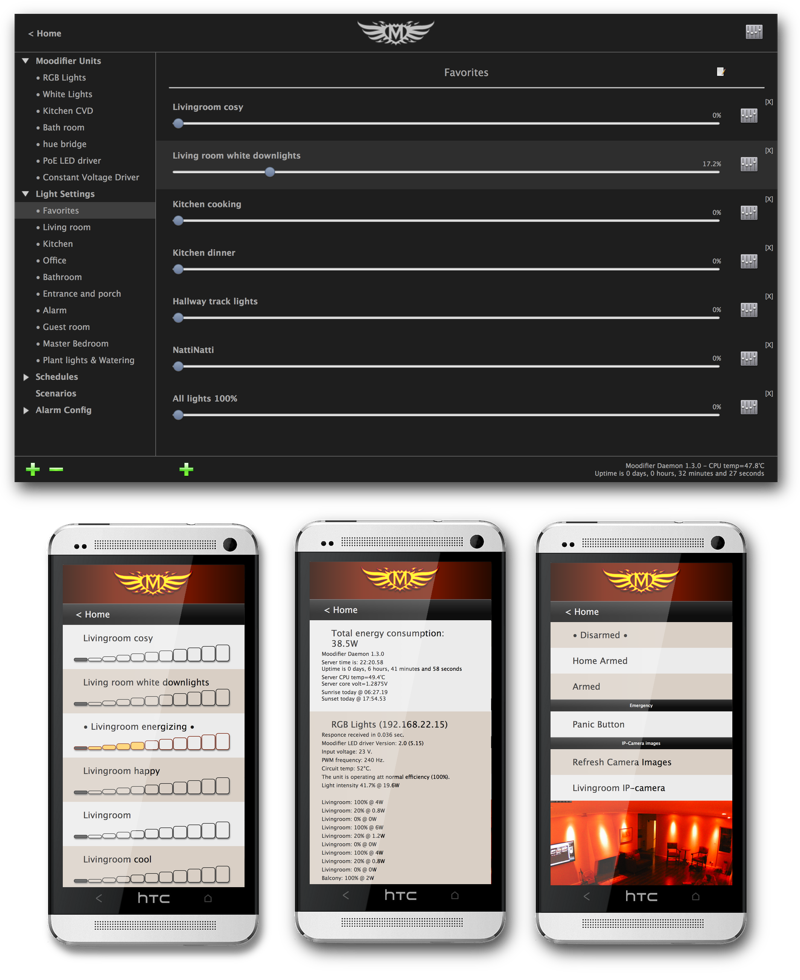 Moodifier Daemon is a powerful lighting control server developed by Barsark.
Moodifier Daemon lets you schedule, automate and control your entire Moodifier, Philips hue and other hue compatible ZigBee LED lights from any web browser on any device.
It basically gives you all the lighting control and IP-alarm features of the Moodifier desktop application for Mac and Windows, on a Raspberry Pi, without the need of having a Mac or Windows computer running 24/7.
Main feautures
• Moodifier lighting control.
• Philips hue lighting control.
• ZigBee lighting control, via hue bridge.
• Unlimited number of light scenes.
• Organisation of light scenes in zones.
• Timed light scene playlists through light scenarios.
• Full light scheduling by time of day, day of week, weekends, weekdays, sunrise and sunset.
• Full configuration of Moodifier wall switches.
• Full Moodifier status reporting.
• IP-alarm functionality with intrusion alert, email (& sms) notifications, IP-camera image capture, monitoring and video recording.
• HTTPS encrypted access security.
• Import and export of light settings
If you have comments, feature requests or questions?
-
Contact us!
---