Moodifier Constant Current Driver & Slave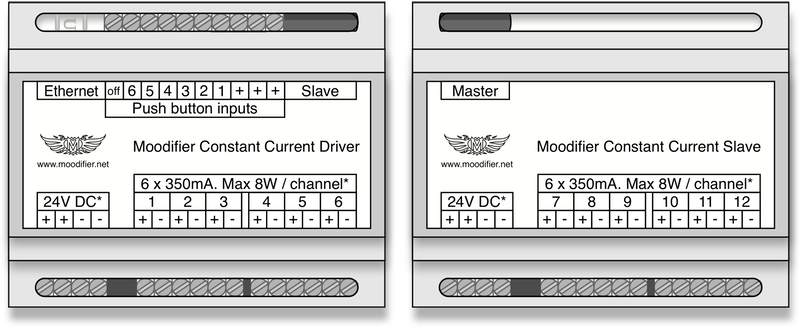 Precision, flexibility & scalability
The Moodifier DIN-rail mounted Constant Current Driver & Slave units are two IP network connected LED drivers for constant current powered LED lighting. Together with the accompanying Moodifier software they open up new possibilities in LED lighting control.
The Driver can power up to 50W on 6 individually controlable LED channels and if you need more than 6 channels or more power you can attach a Slave unit to get a total of 12 individually controlable LED channels with a power output of 100W.
The Driver & Slave units lets you dim and turn your lights on and off in a traditional way with standard push button wall-switches, but you can also connect them directly to your IP network and gain access to new opportunities in lighting control. By connecting the Moodifier DIN-rail mounted Constant Current Driver to an IP network, you can easily create your own light scenes and control the lighting from computers, mobile phones and other networked devices, from anywhere. With the Moodifier Control Box or Moodifier application it is easy to create your own light scenes, schedule your lighting and make lighting blend together with music, TV, movies, games and other digital media.
Blisteringly fast, flicker-free and accurate
The Driver & Slave controls your lighting blistering fast and with perfect accuracy. Dimming is done through pulse width modulation with an adjustable frequency between 480Hz and 4.8 kHz which gives a flicker-free and perfect light output with smooth dimming regardless if light intensity is 1% or 100%. The brightness of each LED channel can be changed at a rate of 100 times per second, allowing for amazing light shows and effects.
Designed for professional installations
The DIN-rail mounted Moodifier Constant Current Driver and Slave units are designed for professional installations. Sturdy screw cable connectors as well as extra inputs and outputs make for a well organised and straightforward installation process.
The concept of combining master and slave units that support either constant voltage (0-12,24V), constant current (350mA), 0/1-10V and PWM signals gives great flexibility and scalability when putting together a professional lighting solution.
Download full documentation